Meme-based cryptocurrency Dogecoin (DOGE) has been this year's sensation. But things are not looking as bright as previously, in the light of a broader crypto market downtrend. DOGE, posting increases above 15,000%, has seen the frenzy surrounding it reduce in the past couple of days.
DOGE Rapidly Losing Transaction Value
According to data from BitInfoCharts, the Bitcoin knock-off's daily transactions in blockchain dropped almost 80%, from a high of $1.16M on Sunday to a little under $240K a few days later.
In addition, the number of coins sent on the DOGE blockchain was two times that of Bitcoin. Dogecoin transactions peaked at $82.2 billion, while Bitcoin peaked at $35 billion on May 5, 2021.

There are several reasons why this value is dropping. It could be the number of whales investing in Dogecoin is reducing, as more institutions are now setting their sights on altcoins like Cardano following ESG concerns.
So far, the asset has had a mixed start to the week. On Saturday, it ended the week with a 1.55% dip. DOGE fell again on Sunday by 0.33% to an early low of $0.2866. The coin has been struggling to find major support above the $0.3100 mark.
It raced past the $0.3110 on Monday morning before falling back into the red. To get back into play for a major bull's run, Dogecoin would need to avoid falling back into the $0.2999 level for a chance to cap any upside.
Dogecoin Price Sustained By Celebrity Hype
The parody coin itself has been something of a revelation following celebrity attraction to the meme token. Elon Musk has been a major supporter and purports to have said the joke crypto-asset might facilitate interplanetary expeditions.
Musk has not let up fanning the Shiba Inu flames (mascot for DOGE) and has spent considerable time bonding with the digital token hodlers. His social standing has since influenced several crypto investors into owning some of the Bitcoin knock-offs. DOGE, which traded below 20 cents in 2013, came close to reaching the dollar mark at a record high of $0.74 before tailing off.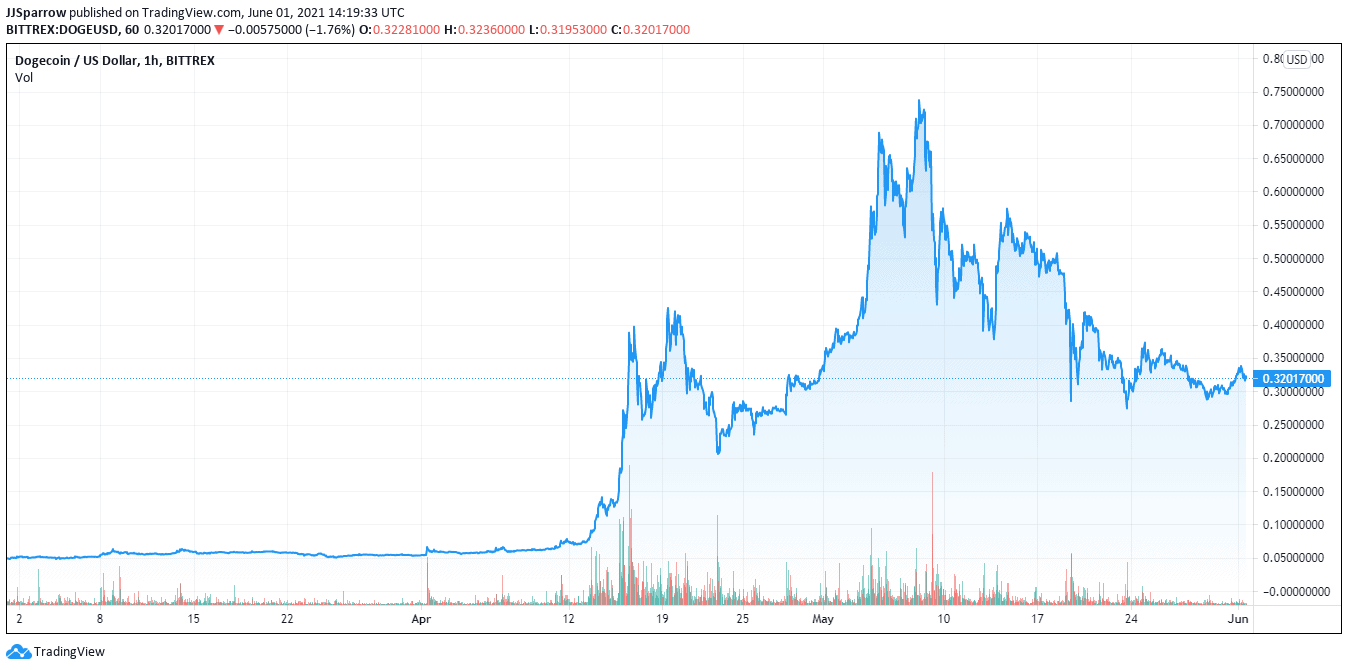 This momentary victory has since attracted many companies to the meme token. One of the earliest adopters has been the professional basketball team, The Dallas Mavericks, which announced that fans could pay for tickets with their DOGE holdings. Another has been online technology retailer Newegg, which announced support for DOGE on the self-styled DOGE day on April 20.
Crypto automated teller machine (ATM) operator CoinFlip also added support for DOGE deposits and withdrawals on its 1,800 Bitcoin ATMs spread across the US. The massive support saw Dogecoin become more valuable than long-standing automobile company Ford Motors and social media giant Twitter with a $57 billion market cap.
However, DOGE has not maintained the high standard it has set for itself in the past few weeks. Data from crypto aggregator website coingecko shows DOGE lost over $16 billion of its value in the current crypto market crash.
Falling from the fourth position on the charts, DOGE trades at 32 cents, a far cry from its 73 cents ATH.
Where to buy Dogecoin
You can buy Dogecoin from most of the top-tier crypto exchanges, although Coinbase remains an exception due to its more rigorous listing process – although that means it has missed out on a lot of trading fees (5 basis points, which makes the US-based exchange expensive), which explains why it recently said it would be speeding up that process.
eToro, the global investment platform with 20 million of users around the world, added DOGE to its list of cryptocurrencies, which now numbers 23 in total.
Buying Dogecoin on eToro does not include any fee, although there is the spread to pay between the buy and sell prices.
eToro is a leader in social trading and its lively community of traders provides a good place for new trading ideas and education.
eToro allows you to copy the trades of other traders on the platform, providing they have set their accounts to public and their risk profile is not greater than a score of 6.
Looking to buy or trade Dogecoin (DOGE) now? Invest at eToro!
75% of retail investor accounts lose money when trading CFDs with this provider