Bitcoin (BTC) Price Prediction – May 30, 2021
Bitcoin price is in a downward move as Bitcoin hovers above $34,000 . A break below the $34,000 support would mean a further decline to $30,000. Similarly, a rebound is equivalent to a rally to $40,000 high. The $30,000 support is where bulls have strong buying power. It is likely buyers are likely to defend the support level.
Resistance Levels: $45,000, $46,000, $47,000
Support Levels: $35,000, $34,000, $33,000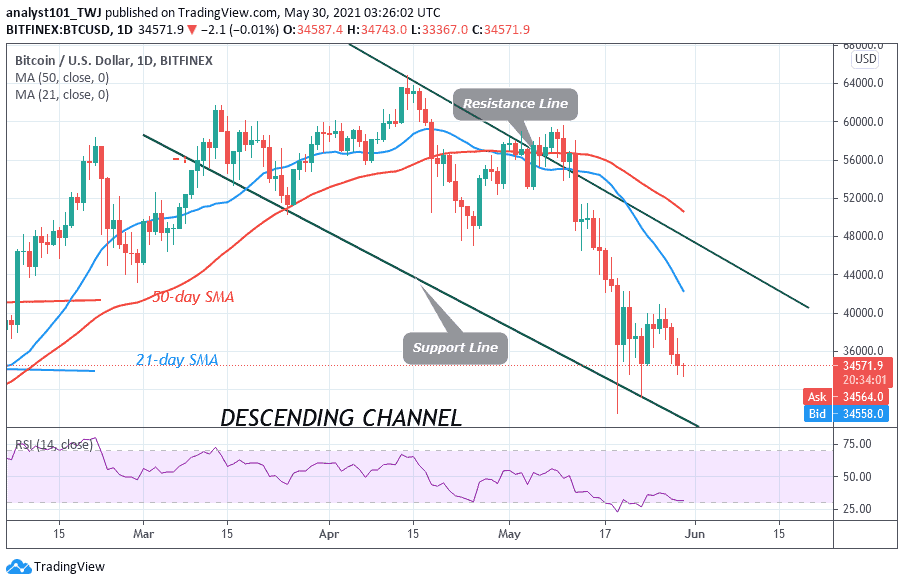 Since May 19 breakdown, BTC/USD has fallen to $30,000 support twice as bulls pulled back. On the other hand, Bitcoin bulls have retested the $40,000 resistance on five occasions without sustaining the bullish momentum above it. There is a deadlock above the $34,000 support as buyers and sellers continue the price tussle. The bottom line is that if Bitcoin loses the $34,000 support, the market will decline to $30,000. Interestingly, buyers will defend the $30,000 support if it falls to that level. However, a further decline to $28,000 and $20,000 is possible, if buyers fail to defend the $30,000 support.
Bitcoin Is a Speculative Asset as Criticize by Bank of Japan Governor – Bitcoin Hovers Above $34,000
Haruhiko Kuroda is the governor of the Bank of Japan and has joined the roll call of central bankers criticizing Bitcoin as a speculative asset. The governor said: "Most of the trading is speculative and volatility is extraordinarily high. It's barely used as a means of settlement." The BOJ governor's comments come as Bitcoin experienced an over 50% drawdown from its $64,000 all-time-high price milestone in mid-April. The central bankers have taken Bitcoin's current price woes as an occasion to slam BTC and cryptocurrencies in general. According to Kuroda, he repeated the sentiments of other central bankers concerning the potential viability for stablecoins as long as their issuers conform to strict regulatory protocols. Despite the current volatility, Billionaire hedge fund manager Ray Dalio has tipped Bitcoin to be a better asset than government bonds.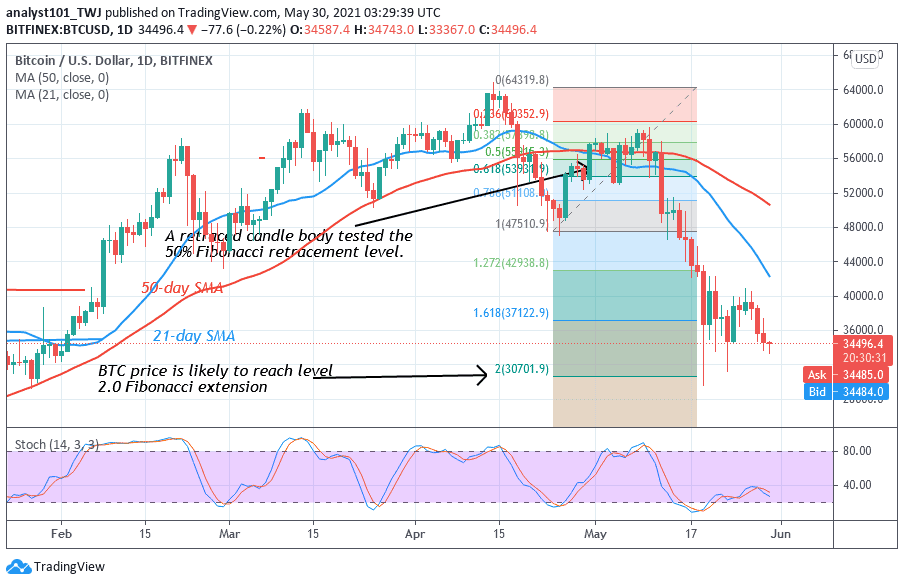 Meanwhile, Bitcoin is hovering above the $34,000 support as there are bullish signals above the current support. Meanwhile, the Fibonacci tool analysis may hold if the bears break the $34,000 support. On April 30, a retraced candle body tested the 50% Fibonacci retracement level. The retracement indicates that BTC price is likely to fall to level 2.0 Fibonacci extension or level $30,701.90.