Blockchain-powered sports platform dotmoov has announced the signing of two football legends Luís Figo and Ricardo Quaresma, as brand ambassadors.
Both professional athletes hail from Portugal and will use their professional influence to educate sports enthusiasts on the burgeoning crypto industry. 
The global pandemic has forced activities in every sector to a screeching halt. One of the most affected has been the world of sports.
Tech companies are leveraging blockchain to solve this problem. An early-stage blockchain-powered sports platform is looking to incentivize sports enthusiasts through its online sports competition app.
dotmoovs Target Sports Enthusiasts
Dotmoov, a sports competition app, will enable users to participate in instant competitions with other users.  The winner will be rewarded with the Ethereum-based MOOV tokens, and non-fungible tokens (NFTs) – unique digital collectibles stored on the blockchain-based on the decision of an AI-based engine that powers the platform.
On the dotmoovs platform gamers film themselves with their smartphone's camera while leveraging the system anti-fraud mechanism, as they take part in matches, tournaments and leagues.
Gamers choose the game, choose the stake, choose an opponent or let dotmoovs do the matchmaking, and the competition begins. There are a variety of gaming modes: Solo, Party, Teams, and Pro-Seasons, with the winners getting the prize pool minus organising fees.
Speaking on the selection of the two Portuguese legends, Head of Growth at dotmoovs Ricardo Martins Costa said the startup had tapped the celebrities to help promote its Football Freestyle competition and the app as a whole.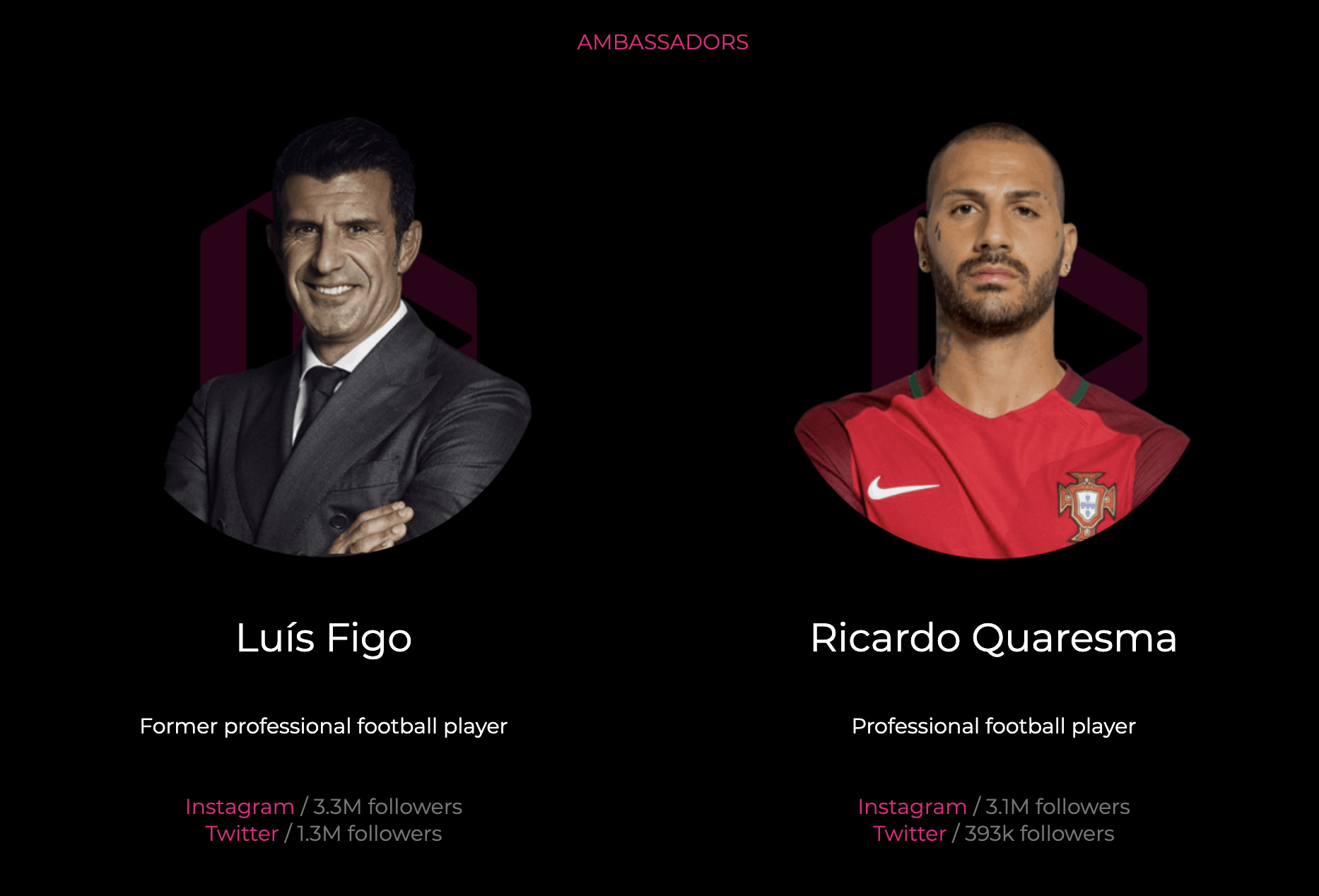 Figo is an ex-Portuguese star who plied his trade with Real Madrid in the early 2000s, where he formed a star-studded team with British football icon David Beckham.
"During the Covid pandemic in 2020, football fans around the world have been forced to explore new ways of playing their favourite sport," Figo explains. He sees digital innovation as something that will continue after the worst of the pandemic is over. "Though, thankfully, the worst is now over, I believe that new ways of combining digital with physical sports will take their place together with the good old-fashioned game on the football field."
Since leaving the professional football scene, Figo has spent his time giving back to society through the Luis Figo Foundation.
Meanwhile, Quaresma is an active professional currently plying his trade with Portuguese outfit Vitoria S.C. The flamboyant football star is a fan favourite given his large repository of footballing tricks and sensational dribbling abilities.
Commenting on the brand ambassadors news, Ricardo Martins Costa, Head of Growth at dotmoovs, said: "Since we are launching Football Freestyle as the platform's first sport, it was clear that we had to have at least one football legend with us."
Costa continues, explaining why Figo was such a draw: "Figo was the original Galactico, the first truly world-famous football superstar of our generation, so we had to present him with the project. Just a couple of weeks later we were flying to Madrid to meet with him and doing some shooting sessions."
Blockchain To The Rescue
Many sports enthusiasts feel left out given the restriction on public gatherings. With football being a very physical sporting activity, fans have been banned from watching their teams play in person.
This has seen the sports suffer, with many clubs crippled due to the lack of funds.
Blockchain solutions like dotmoov's will allow football fans to engage and compete with their peers worldwide. dotmoov's app starts with football, but the company plans to include other sports in its ecosystem.
Another popular blockchain-based fan app is Socios which allows fans to participate in their club's decision-making process. Football giants like FC Barcelona and English champions Manchester City all use the Socios platform built on the Chiliz blockchain.
Get Free Crypto Signals – 82% Win Rate!
3 Free Crypto Signals Every Week – Full Technical Analysis