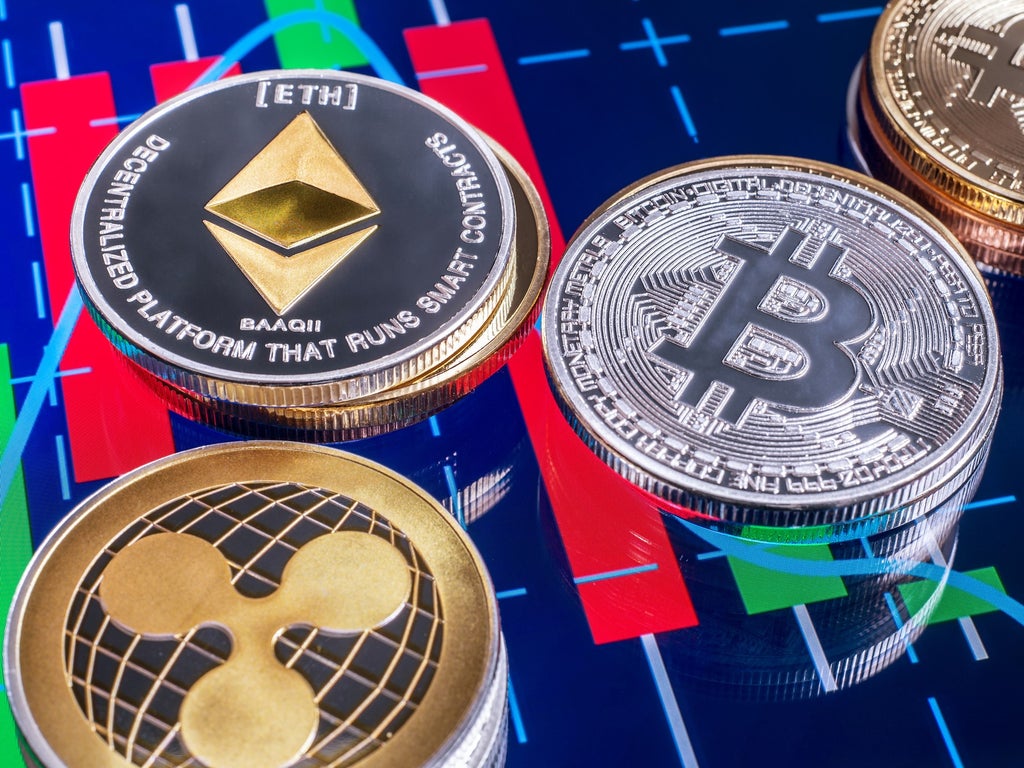 After a surge in Bitcoin's value on Monday following a major upgrade to its network, the cryptocurrency has plunged by over 6 per cent in the last 24 hours to below $59,000 on Wednesday.
Several other leading cryptocurrencies, including Ethereum (ether), Solana (SOL), and Cardano (ada), as well as the meme coins dogecoin and shib inu, have also dropped in value this week.
Most of the top 10 cryptocurrencies are down by between 6 to 10 per cent, with a flash crash on Tuesday coming less than a week after several of them hit all-time highs.
Bitcoin's price has held firm above $58,000, bolstered by the rollout of the long-awaited Taproot update over the weekend, which improves both the privacy and security of BTC.
The price falls wiped more than a hundred billion dollars from the overall crypto market, though it remains above $2.5 trillion.
You can follow all the latest news, analysis and expert price predictions right here.
1637206098
The prices of several cryptocurrencies including Bitcoin and Ethereum have slightly improved after Tuesday's flash crash with the global crypto market increasing in value by about 4 per cent in the last 24 hours.
Bitcoin has grown by over 2 per cent in the last day and is currently valued at about $60,500 – much lesser than its pre-crash value of over $65,000.
Ethereum has also risen in value by nearly 5 per cent in the last 24 hours, but is still down by over 7 per cent compared to its price a week earlier.
Other leading cryptocurrencies including solana, cardano, and polkadot have also grown in the last 24 hours but are still valued less compared to their prices 7 days earlier.
Meme coins dogecoin and shiba inu are also showing signs of recovery post the Tuesday crash.
While the top 10 leading cryptocurrencies are showing signs of recovery, the overall crypto market is yet to catch up to its pre-crash value.
Vishwam Sankaran18 November 2021 03:28
1637181793
Is bitcoin better than gold?
Following the comments from MicroStrategy CEO Michael Saylor yesterday that "bitcoin is better than gold", we've had some reaction from analysts both reasserting and refuting the claim.
In the latter camp is Jai Bifulco from the Kinesis Money platform, which uses precious metals like gold and silver as the basis for digital currencies.
Here's what he had to say:
Anthony Cuthbertson17 November 2021 20:43
1637176267
Bitcoin price pullback over?
With bitcoin tentatively returning back above $60,000 – though still within the $59,000 to $61,000 range – some analysts are hopeful that the price correction may be over.
Katie Stockton, founder and managing partner of Fairland Strategies, believes technical indicators are signalling "signs of intraday downside exhaustion", meaning the pullback could be over.
"Short-term oversold conditions are within reach for bitcoin, ether, and many altcoins, so we would look for their collective pullback to mature later this week," Stockton wrote in a note shared with MarketWatch.
Anthony Cuthbertson17 November 2021 19:11
1637165134
Bitcoin price in limbo
The price of bitcoin briefly rose above $60,000 earlier but has since dipped back below.
It has now traded within the relatively narrow band between $59,000 and $61,000 for the last 24 hours. Investors will be keeping a close eye on which way it breaks out, as the direction could prove telling for the short-to-medium term momentum of BTC and the overall crypto market.
Anthony Cuthbertson17 November 2021 16:05
1637156683
Bitcoin Fear & Greed Index flips to neutral
The Bitcoin Fear & Greed Index has switched to neutral today for the first time in more than a month.
The index aims to measure market sentiment by analysing various factors, including emotions across social media. It has been trending on 'Greed' for the last few weeks and was 'Extreme Greed' in October.
Crypto author Glen Goodman is one of several bitcoin analysts to suggest that the change is a positive thing for the market.
Anthony Cuthbertson17 November 2021 13:44
1637151200
Perth Heat baseball team becomes first professional sports club to pay players and staff in bitcoin
Australian Baseball League team Perth Heat has announced that it will become the first professional sports outfit to pay its players and staff in bitcoin.
From Friday, salary payments will be using the cryptocurrency, while fans will also be able to buy merchandise, tickets and club membership with BTC.
The 'Bitcoin Baseball Team' has appointed a chief bitcoin officer to usher in the change and shift the team's corporate treasury from Australian dollars to bitcoin and "Hodl bitcoin on the club's balance sheet".
You can read the full story here.
Anthony Cuthbertson17 November 2021 12:13
1637146440
Bitcoin price dips below $59k
The price of bitcoin has fallen below $59,000 on Wednesday morning, reaching its lowest point since late October.
It marks a trend for most of the leading cryptocurrencies, with Ethereum (ether), Cardano (ada) and Solana (SOL) all slipping slightly further from the heavy losses they saw yesterday. Losses over the last 24 hours average around 2 per cent.
The combined price drops have pushed the overall crypto market back to the $2.5 trillion level, which is still up more than 250 per cent since the start of the year.
Anthony Cuthbertson17 November 2021 10:54
1637075677
Bitcoin is better than gold, Michael Saylor says
As bitcoin continues to steadily clamber back the losses it suffered earlier today – it just returned above $61,000 – MicroStrategy boss Michael Saylor has claimed that the cryptocurrency is better than gold.
Under his leadership, the software company has become the biggest corporate investor in bitcoin, holding roughly $7 billion worth of the cryptocurrency.
It means the company's value tends to fluctuate with the price of BTC, put this hasn't put Saylor off his belief that bitcoin is a better store of value over the long term than traditional assets like gold.
Anthony Cuthbertson16 November 2021 15:14
1637072580
Bitcoin continues to hold above the $60k mark, but only just.
As is customary following sudden price falls, the staunchest BTC advocates and most optimistic bulls are celebrating the opportunity to "buy the dip" and stock up on the cryptocurrency while its price is relatively cheap – at least compared to last week.
I've lost count of how many times bitcoin and other altcoins have suffered flash crashes during the various market rallies in 2021. It seems I'm not the only one:
If it is just a dip, and not a sustained drop, then the key is always timing:
Anthony Cuthbertson16 November 2021 14:23
1637063742
Bitcoin price bounces back above $60,000
Bitcoin is back above $60,000 – at least for now.
It is currently trading at around $60,500, having achieved the first significant reversal of this dip. The next hour or so will prove crucial to see whether the recovery can be sustained .
Anthony Cuthbertson16 November 2021 11:55