Bitcoin's price continues to suffer after one of the most severe price crashes in its history this week, with the wider crypto market finally stabilising.
Ethereum (ether), Cardano (ada) and dogecoin have all remained relatively calm overnight, after Elon Musk once again committed his belief in the latter. It followed the statement – in the form of emoji – that Tesla would not be selling its substantial bitcoin holdings.
The initial crash on Wednesday was prompted by an announcement from regulators in China that cryptocurrency payments would be banned, though individuals in the country will still be permitted to own cryptocurrencies.
The news saw bitcoin fall below $31,000 – less than half the all-time high price that it reached in mid April – before recovering to around $40,000 on Thursday.
Cryptocurrency experts and market analysts appear divided over whether this crash is similar in magnitude to the one seen in 2017/18, or simply a price correction on the way to new record highs in 2021. We'll have all the latest updates, as well as a Q&A session where you have the chance to ask our experts anything.
1621671001
Saturday's crypto market continues to reel from latest plunge
Bitcoin is down 7 percent, and most other coins are down somewhere between 10 and 20 per cent. The market as a whole has lost 13.23 per cent, according to tracking website CoinMarketCap.
Andrew Griffin22 May 2021 09:10
1621610384
Iran uses crypto mining to lessen impact of sanctions, study finds
Iran is using crypto mining to get around the economic effects of sanctions on the country, according to a new report. Here's the full story from Reuters:
Around 4.5% of all bitcoin mining takes place in Iran, allowing the country to earn hundreds of millions of dollars in cryptocurrencies that can be used to buy imports and lessen the impact of sanctions, a new study has found.
At its current level of mining, Iran's bitcoin production would amount to revenues close $1 billion a year, according to figures from blockchain analytics firm Elliptic.
Iranian officials could not immediately be reached for comment.
The United States imposes an almost total economic embargo on Iran, including a ban on all imports including those from the country's oil, banking and shipping sectors.
While, exact figures are "very challenging to determine", Elliptic estimates are based on data collected from bitcoin miners by the Cambridge Centre for Alternative Finance up to April 2020, and statements from Iran's state-controlled power generation company in January that up to 600 MW of electricity was being consumed by miners.
Bitcoin and other cryptocurrencies are created through a process known as mining, where powerful computers compete with each other to solve complex mathematical problems. The process is energy intensive, often relying electricity generated by fossil fuels which Iran is rich in.
The country's central bank prohibits the trading of bitcoin and other cryptocurrencies mined overseas, although the currencies are widely available on the black market, according to local media reports.
Iran officially recognized crypto mining as an industry in recent years, offering it cheap power and requiring miners to sell their mined bitcoins to the central bank. The prospect of cheap power has attracted more miners, particularly from China, into the country. Teheran allows cryptocurrencies mined in Iran to pay for imports of authorised goods.
"Iran has recognised that bitcoin mining represents an attractive opportunity for a sanctions-hit economy suffering from a shortage of hard cash, but with a surplus of oil and natural gas," the study finds.
The electricity being used by miners in Iran would require the equivalent of around 10 million barrels of crude oil each year to generate, around 4% of total Iranian oil exports in 2020, according to the study.
"The Iranian state is therefore effectively selling its energy reserves on the global markets, using the Bitcoin mining process to bypass trade embargoes," the study reads.
"Iran-based miners are paid directly in Bitcoin, which can then be used to pay for imports – allowing sanctions on payments through Iranian financial institutions to be circumvented."
Financial firms that have started offering cryptocurrency services, particularly in the United States, should consider potential sanctions they are exposed to due to Iranian bitcoin mining, Elliptic said.
Andrew Griffin21 May 2021 16:19
1621607895
Bitcoin price plunges as China threatens to crackdown on crypto
Crypto prices are crashing amid more fears about more regulation, particularly from China.
Andrew Griffin21 May 2021 15:38
1621606131
Hong Kong to restrict crypto trading to professional investors
As if regulatory scrutiny in the US and mainland China wasn't enough, a new government report in China says that crypto trading will be restricted only to professional investors. Here's the full report from Reuters:
Cryptocurrency exchanges operating in Hong Kong will have to be licenced by the city's markets regulator and will only be allowed to provide services to professional investors, according to government proposals published on Friday.
Governments and financial regulators around the world are still assessing whether and how they should regulate the cryptocurrency industry. Investor protection and preventing money laundering are particular concerns.
Cryptocurrencies such as bitcoin and ether have been on a roller-coaster ride this week which has raised further questions about their potential as mainstream investments.
Dozens of cryptocurrency exchanges operate in Hong Kong, including some of the world's largest. The city currently has an "opt in" approach under which exchanges can apply to be licenced by markets watchdog the Securities and Futures Commission, but do not have to.
Hong Kong's Financial Services and the Treasury Bureau (FSTB) has been consulting the market on changes to those rules since last year.
The FSTB said on Friday in its consultation conclusions all virtual asset (crypto currency) exchanges should be licensed if they wished to operate in Hong Kong.
It also said "confining the services of a VA exchange to professional investors…. is appropriate at least for the initial stage of the licensing regime."
Local financial technology and crypto industry associations have opposed regulation stopping exchanges from offering services to retail investors, warning this could drive exchanges out of Hong Kong and push investors onto unregulated venues.
According to Hong Kong law, an individual must have a portfolio of HK$8 million ($1.03 million) to count as a professional investor.
Regulators and governments in Asia have different attitudes to regulating cryptocurrencies and the exchanges on which they are traded.
Under Singapore's regime, crypto exchanges must be licenced, but can have retail investors as clients. However, China on Tuesday announced a tougher ban on banks and payment companies offering crypto-related services which furthered a selloff that briefly wiped $1 trillion off crypto market capitalisation.
The FSTB said it intends to propose legislative changes to turn its proposals into law in the upcoming 2021-22 session of the city's legislative assembly.
Andrew Griffin21 May 2021 15:08
1621606068
US tax authorities to increase scrutiny of cryptocurrencies
The US has issued a new report that suggests it will be more closely scrutinising the use of cryptocurrency and how it might be used to avoid tax. Here's the full report from the Associated Press:
The Biden administration is taking steps to ensure Americans who pay for goods or services with cryptocurrencies don't sidestep the tax man.
The Treasury Department issued a report Thursday that outlines measures. Among the proposed changes, businesses that receive "cryptoassets" with a fair market value of more than $10,000 would have to report it to the IRS. That's something businesses already have to do when with cash transactions of $10,000 or more.
The report explains that while the share of business transactions that involve cryptocurrency remains small, the new reporting requirement is necessary to discourage businesses from concealing such transactions from the IRS in the future.
The report notes that cryptocurrency "already poses a significant problem by facilitating illegal activity broadly, including tax evasion."
Another policy change would require payment-services providers to file Form 1099 reports in order to discourage businesses from attempting to hide their income by using alternatives to traditional banks.
Digital currencies were holding on to gains late Thursday after the release of the Treasury Department report. The price of Bitcoin was up 2.5% to roughly $40,401, according to the online brokerage Coinbase. A day earlier, the price of Bitcoin and other digital currencies fell sharply after China's banking association issued a warning over the risks associated with digital currencies.
Andrew Griffin21 May 2021 15:07
1621601939
Ethereum to change technology underpinning its cryptocurrency to dramatically cut its energy use
Much of the concern over cryptocurrencies' impact on the environment has been about "proof-of-work" – the technology that requires vast numbers of miners to undertake complex (and pointless) calculations to ensure that the system remains safe, and to get themselves bitcoins.
An alternative is "proof-of-stake", which does away with that requirement and is vastly more energy-efficient. Switching to that could help stop the significant damage to the environment done by cryptocurrency mining.
Which is exactly what ethereum plans to do. "The Merge", as it calls the switch, will take it from the energy use of a mid-sized country to that of a small town, according to those behind it.
Andrew Griffin21 May 2021 13:58
1621596309
Market remains fairly flat
As this grab from CoinMarketCap shows, most coins are somewhere between flat and a little down over the last 24 hours. Bitcoin is up, slightly, though still a long way below where it was before this week's dramatic crash.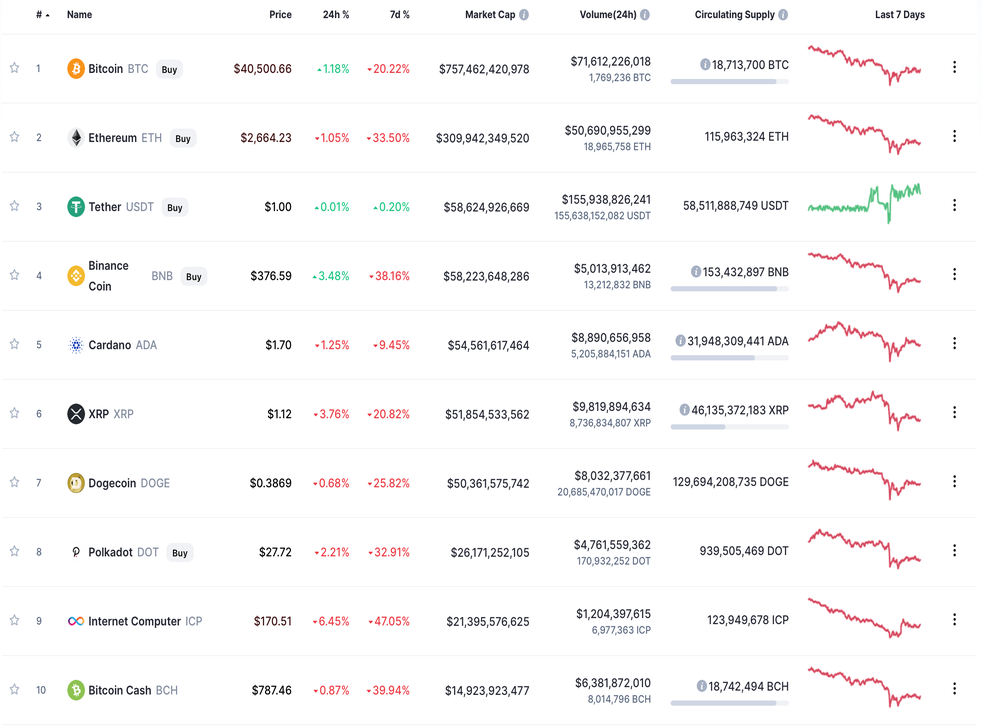 The market as a whole is up 0.43% over the last day, and the trading volume has dropped significantly, down more than 46%.
That counts as relative calm in a week that has been dramatic and wild, even in the frenzied world of cryptocurrencies.
Andrew Griffin21 May 2021 12:25
1621587801
Crypto experts answer your questions
Is this the end of the great 2020/21 rally? Is it just a dip on the way to new all-time highs? And what impact will it have on the industry in general?
Andrew Griffin21 May 2021 10:03
1621533299
How bad is bitcoin for the environment really?
There's been a lot of discussion following that FT article today about how much energy the bitcoin network consumes and what the implications of this are for the environment.
While there are a large concentration of crypto mines in coal-burning regions of China, there are also an increasing number of green solutions that source electricity from renewable sources.
I've visited a couple of 100 per cent renewable operations in recent years – one in Iceland and one in Norway – and they are cheaper, greener and more efficient than their fossil fuel-guzzling counterparts.
You can read more about bitcoin's environmental impact right here:
Anthony Cuthbertson20 May 2021 18:54
1621524881
Bitcoin whales Tesla and Microstrategy trade memes
The CEOs of the two companies with the largest bitcoin holdings have been exchanging messages on Twitter.
Microstrategy holds more than 92,000 bitcoin in its corporate coffers, while Tesla has roughly 43,200.
The exchange between the two bosses came after Microstrategy CEO Michael Saylor responded to an article in the Financial Times today discussing bitcoin's "growing energy problems". Saylor countered the arguments in the story by calling bitcoin the "most efficient technology for converting energy into prosperity we have yet to devise."
Musk responded, in typical fashion, with a meme of a guy pointing to his reflection in the mirror, with the text: "It's not the bull market. You really are a genius."
Anthony Cuthbertson20 May 2021 16:34