The price of bitcoin continues to trade within a very narrow band on Wednesday, having enjoyed a remarkable period of stability since the weekend.
This calm has extended across much of the crypto market, with other leading cryptocurrencies like Ethereum (ether), Cardano (ada) and bitcoin cash moving by less than 2 per cent over the last 24 hours.
Dogecoin has been the one notable exception, shooting up by around 10 per cent after popular crypto exchange Coinbase added the meme-based asset to its professional trading platform.
The addition of dogecoin to Coinbase Pro will allow traders to buy and sell the cryptocurrency from Thursday, 3 June, "if liquidity conditions are met".
Dogecoin fan and unofficial spokesperson Elon Musk celebrated the news by resharing a meme showing a 'dogecoin standard' dust cloud enveloping the 'global financial system'. "It's inevitable," the technology billionaire wrote as the caption.
You can follow all the latest news and updates from the crypto market right here.
1622623055
Dogecoin price rise boosted by more Musk tweets
Dogecoin continues to push back towards $0.40, spurred on by more tweets from Elon Musk.
This time the tech billionaire has shared a picture of him "as a child", showing a mocked up image of a Shiba Inu dog with computer setup from 1980 in the background. The caption reads: "I have to keep my passion hidden from the public or I'll be socially ostracized."
Musk has actually bought dogecoin for his own child, revealing earlier this year that he bought some of the cryptocurrency for his baby X Æ A-Xii so that it can be a "toddler hodler".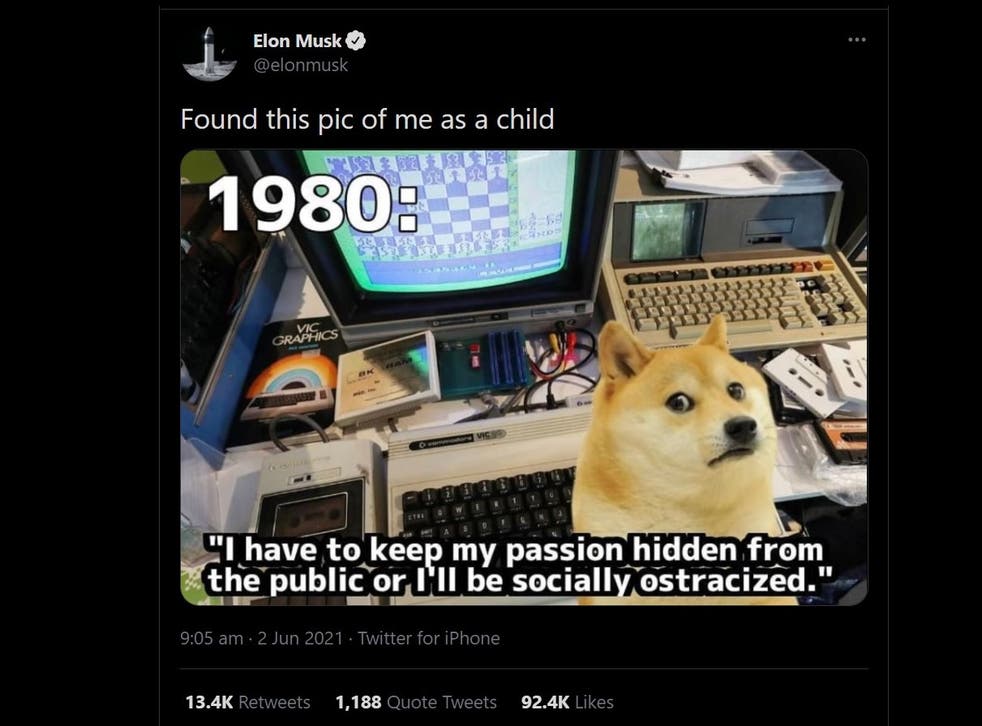 Anthony Cuthbertson2 June 2021 09:37
1622617118
Elon Musk claims dogecoin takeover is 'inevitable'
Following Coinbase's announcement that it will be adding dogecoin to its professional trading platform, Elon Musk has reshared a meme showing the meme-inspired crypto eclipsing the global financial system.
The Tesla and SpaceX CEO captioned the meme: "It's inevitable."
Dogecoin is now up more than 7 cents since the Coinbase Pro news came out, a rise of more than 20 per cent. It is expected that all users will have access to dogecoin within the next few weeks.
You can read the full story about Coinbase's latest addition right here.
Anthony Cuthbertson2 June 2021 07:58
1622612970
Dogecoin launches on Coinbase Pro
Coinbase Pro users will be able to trade dogecoin from Thursday after the popular crypto exchange announced support for it.
Coinbase wrote in a blog post: "Starting today, transfer Doge into your Coinbase Pro account ahead of trading. Support for Doge will generally be available in Coinbase's supported jurisdictions. Trading will begin on or after 9AM Pacific Time (PT) Thursday 3 June, if liquidity conditions are met."
The price of dogecoin immediately shot up following the news, rising by nearly 10 per cent.
Anthony Cuthbertson2 June 2021 06:49
1622610677
Bitcoin remains in top 10 global assets
Bitcoin continues to enjoy its relative period of stability on Wednesday morning, shifting in price by less than 1 per cent over the last 24 hours.
Despite heavy losses throughout the month of May, bitcoin remains in the top 10 global assets by market cap, however a fall of just 1 per cent would see it lose this status.
With a market cap of $686 billion, the cryptocurrency currently outranks payments giants Mastercard and Visa. The $300 billion market cap of ethereum is also greater than that of PayPal.
Anthony Cuthbertson2 June 2021 06:11
1622561076
Elon Musk's bitcoin 'hypocrisy'
The comments by Binance CEO Changpeng Zhao, commonly known as CZ, that bitcoin's environmental concerns should be considered within a broader perspective have proved divisive.
"When you use electricity to run cars, it's environmentally friendly," he tweeted, in apparent reference to Elon Musk's decision to withdraw support bitcoin payments at Tesla.
"When you use electricity to run the most efficient financial networks in the world, it's an environmental concern."
You can read the full story from The Independent's Adam Smith right here.
Anthony Cuthbertson1 June 2021 16:24
1622553219
Has bitcoin price bottomed?
While Ethereum (ether), Cardano (ada) and dogecoin all saw brief price spikes on Monday and Tuesday, it has been a relatively quiet start to the week for bitcoin.
Currently trading just above $36,000, the world's most valuable cryptocurrency is yet to fall below $34,000 or rise above $37,000 since the weekend. This continues an even more prolonged period of stability for bitcoin, which began in mid May following a series of major price crashes that saw it tumble from its all-time high above $64,000.
For some analysts, this calm could be taken as a sign of price consolidation ahead of a recovery. Price swings are currently at their lowest since the beginning of the year, which preceded a major bull run in the first four months of 2021.
The lack of further dips in price, despite negative headlines over the weekend about British banks blocking transfers to crypto exchanges, has given some investors hope that bitcoin will head north from here.
In a note to clients, co-founder of independent research firm Fundstrat Global Advisers Tom Lee wrote: "I can't help but view this as reinforcing the likelihood bitcoin has bottomed, given bad news is not creating new lows."
His prediction for 2021 is $125,000, so long as it can rise above $40,000 in the short term.
Anthony Cuthbertson1 June 2021 14:13
1622547669
Bitcoin price prediction model 'intact'
Renowned bitcoin analyst PlanB has stood by his 'stock-to-flow model' today, which puts the cryptocurrency on a trajectory towards $288,000.
After bitcoin closed just above $37,000 on the last day of May, he tweeted: " "We knew bitcoin would not go up in a straight line and several -35% drops are possible (and indeed likely) in a bull market. Starting to look like 2013. S2F(X) model intact."
His words hold all the more weight given he was predicting the market rally of 2020/21 even when bitcoin was wallowing below $5,000 last March.
When bitcoin crashed last month, he said: "It's not a straight line to the next all-time-high, but a lot of volatility (multiple -30 per cent dips). HODL."
Anthony Cuthbertson1 June 2021 12:41
1622535241
Elon Musk toys with Doge Fest DJ role
Elon Musk has replied to a thread on Twitter offering him the role of DJ at a proposed Dogecoin-themed festival.
"Sounds kinda fun," the Tesla CEO responded.
Other suggestions from Twitter user @itsALLrisky include performances by dogecoin proponent Snoop Dogg and Musk's partner Grimes.
Billionaire cryptocurrency investor Mark Cuban would apparently pay for it all, while tickets, merch and concessions would all be paid for using dogecoin. The event would also be BYOD (bring your own dogs).
Anthony Cuthbertson1 June 2021 09:14
1622526448
Bitcoin, ethereum, cardano and dogecoin price bounce back
A new month and a fresh start for the crypto market, with bitcoin, Ethereum (ether), Cardano (ada) and dogecoin all seeing massive gains on Tuesday morning.
All of the top 10 most valuable cryptocurrencies – excluding stable coins like Tether – rose by between 7-20 per cent overnight.
The rebound added $150 billion to the total market cap of all cryptocurrencies combined. The reason for the turn-around is not immediately clear, though several leading cryptocurrency analysts predicted on Monday that the market was showing bullish patterns (see below).
The bounce back means that both bitcoin and ether are now up week-on-week for the first time since mid-May.
Anthony Cuthbertson1 June 2021 06:47
1622481792
Bitcoin rivals' record month – visualised
After bitcoin hit an all-time price high in April, this month has been the turn of several of its rivals.
May has been a record-breaking month for Ethereum (ether), Cardano (ada) and dogecoin, with all three experiencing their own all-time highs. These peaks were followed unanimously by record price crashes, followed by a relative period of stability.
As May comes to a close, we've crunched the numbers to visualise the percentage gains and losses of bitcoin's rivals. Remarkably, despite the ups and downs, they're all pretty much back to where they started.
Anthony Cuthbertson31 May 2021 18:23