Despite the price of Bitcoin (BTC) retracted by 30%, followed by a plummet intraday Wednesday. the bulls are trying to push Bitcoin stand firm over the 200-Exponential Moving Average (200-EMA) of around $42K.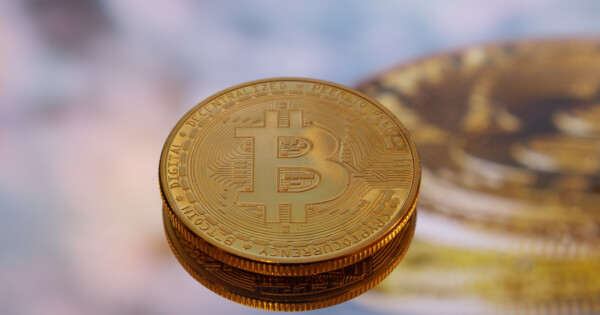 The market believes that this was the first time BTC has dropped to the 200-MA, a key stragetic indicator, since the outbreak of the Covid-19 pandemic, which happened around May 2020 globally.
Recently, three major regulatory bodies in China have prohibited banks and financial firms to provide cryptocurrency transaction services, leading to a market panic towards BTC. As a result,  BTC fell to around $30K, resulting in the biggest single-day drop of Bitcoin, up to 30%. The price level of $30K was close to the beginning of 2021, which indicates that the year-to-date (YTD) return of long-term investors by holding BTC was almost zero.
Due to the collapse of BTC, the entire cryptocurrency market showed certain degrees of panic selling. Ethereum (ETH) fell by 13.42%, Binance Coin (BNB) dropped by 18.11%, and Cardano (ADA) also decreased by 6.59% within the last 24 hours. Other altcoins suffered losses dramatically with different levels, such as Dogecoin (DOGE), which decreased by 14.20% to $0.3589 within 24 hours.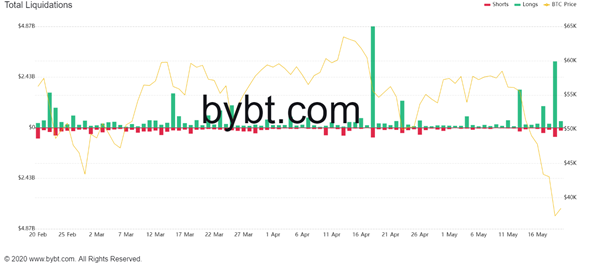 According to Bybt data, the liquidation of BTC was as much as $3.7 billion in 24 hours. Yesterday, the liquidation of long positions for Bitcoin was as high as $3.18B. The largest single liquidation order happened on the Huobi-BTC value of $67M.
During the press time, Bitcoin (BTC) was fluctuating at around $40,399 before dropping to $30,000 earlier Wednesday. 
Bitcoin (BTC) Price Analysis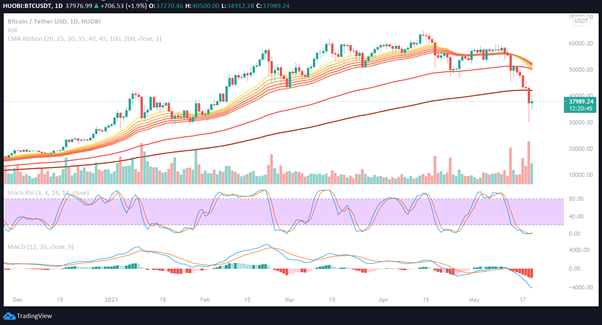 Source: BTC/USDT Daily via TradingView

According to the data from the daily candlestick chart, the long lower shadow line candlestick accompanied by increasing transaction volume than any day before, indicating that there were still investors buying on the dips, although the price of BTC collapsed on Wednesday.
Likewise, if the price dropped below $40,000, just like the forecast a few days ago, it would trigger a panic in the market, leading to a greater correction for Bitcoin below $37,000.
However, BTC still suffers from a downward channel at present, and there is no stable signal yet.
Although the Stochastic RSI was glued below the oversold zone of 20, meaning that the RSI value was trading at the lower end of Bitcoin's predefined range. The short-term direction of Bitcoin may result in the cryptocurrency rebounding higher.
However, the MACD index made a bearish crossover below the zero axes-indicate that the bears are still dominating the market.
The market estimates BTC will likely trade sideways in the range of $40,000 to $41,000 for a period of time before it re-stands on 200-EMA of $42,099.
Image source: Shutterstock